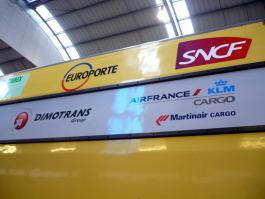 First major step for Eurocarex, the European high-speed rail freight network. Watch the film here: http://vimeo.com/39522466
Euro Carex has achieved a major step : the first test of a high-speed freight train between Lyon St Exupéry airport and St. Pancras International Station in London, passing via Paris Charles De Gaulle airport and the Channel Tunnel. This test demonstrates the efficiency, speed and environmental benefits of a shift in intermodal container traffic from air to the high-speed rail network.
The high-speed freight train number 27274 (which has a potential load of 120 tonnes of parcels equivalent to 7 articulated trucks or 7 Boeing 737 cargo planes) left Lyon-St Exupéry airport on Tuesday 20 March at 16:42. It will arrive at St. Pancras International Station in London on Wednesday morning, after passing through the Channel Tunnel, travelling on High Speed 1 and having made an intermediate stop to take on extra cargo at Roissy (Paris-Charles de Gaulle airport).
The Express Rail Eurocarex operation could, in time, be connected to the trans-continental distribution network for next-day delivery with a carbon footprint lower than delivery by air and by road. In the future, express freight could also be accompanied by traditional freight.
This achievement has been made possible by the excellent coordination between the main European airports which are members of Eurocarex (Paris - CDG, Amsterdam, Liège and Lyon), the infrastructure managers (Eurotunnel, High Speed 1 and the manager of the French railway network Réseau Ferré de France) the operators (SNCF and Europorte) and their customers (Air France Cargo, FedEx, WFS, Geodis etc.). The loading and unloading operations in the passenger stations will be conducted by the Geodis subsidiary Geoparts Rail Solutions. Eurocarex is a project on a truly European scale. It is part of Eurotunnel's strategy to make the Channel Tunnel the natural choice for the transfer of freight between the UK and continental Europe.
Eurocarex is a solution to the continuous rise in fuel prices, to the growth in road congestion and the environmental constraints which limit the number of night flights.
Yanick Paternotte, member of the French parliament and Chairman of EUROCAREX, stated:
"I am delighted that today's test over the European high speed rail network clearly shows the interest which strategic players in the logistics field - airports as well as rail operators - have in linking their infrastructures to key European economic centres. It will bring benefits to both industry and society in general".